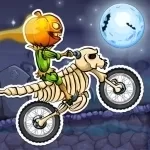 MOTO X3M SPOOKY LAND
Happy Halloween. Prepare for a pleasant motorcycle ride.
Moto X3M is a bike racing game full of crazy numbers. Crazy obstacles and deadly explosives cause collisions. It is a game with different difficulty levels and extremely dangerous high speed. It will fly you with exciting features! Don't miss the fun with Spooky Land Halloween game.
Have Fun!