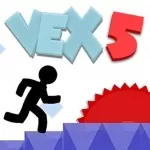 Vex 5
The 5th game of the Vex series, which is a fun and action-packed game, Vex 5 will offer a better experience thanks to the renewed game graphic and game engine.
You will have a more fun and action game experience with Stick Man.
Try the Vex 5 adventure now!
If you like Vex 5, please don't forget to share it with your friends.
Game Controls:
Use keyboard and mouse